FK Series Fittings
Reduce Installation Cost
Installs approximately 5x faster than cone and thread
Uses common tools and simple assembly methods with minimal training
Pre-assembled cartridge for rapid, error-proof assembly
Improve Uptime
Leak-free performance at startup
Reliable performance in dynamic systems (vibration)
Reduces unplanned maintenance for leaking fittings
Boost Safety and Environmental Compliance
No leaks - environmentally-friendly
Avoid compliance events and costs
Proven reliability with over 100,000 connections installed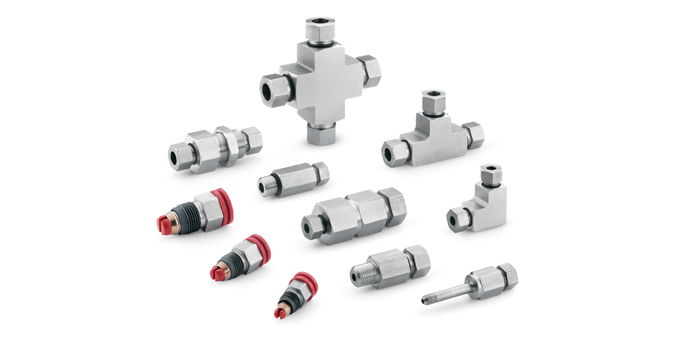 ---
Simplified, Leak-Tight-Design
The simple two-piece design of the Swagelok patented FK series medium-pressure tube fittings consists of a female fitting body and preassembled cartridge containing the male FK series nut and front and back ferrules on a disposable plastic arbor. The preassembled cartridge ensures installers correct ferrule orientation, visual confirmation of ferrule presence, and easy and proper installation into the female body. The Swagelok FK series medium-pressure tube fitting offers a leak-tight gas seal and vibration resistance in applications up to 22 500 psig (1551 bar). Available in 316 stainless steel, super duplex alloy 2507, or alloy 625 material.
Specifications
| | |
| --- | --- |
| Pressure Ratings | Up to 22 500 psig (1551 bar) |
| Temperature Ratings | Up to 1000°F (537°C) |
| Materials of construction | 316 Stainless Steel, Super Duplex Alloy 2507, or Alloy 625 |
| End Connections | |
| Types | NPT, medium-pressure cone and thread adapters, male SAE/MS |
| Sizes | 1/4, 3/8, 1/2, 9/16, 3/4, 1 in.; 6, 10, 12 mm (1 in. only available in 316SS) |
| Configurations | Straights, elbow, tees, cross, port connectors, tube adapters, caps, plugs |
| Other medium-pressure products available | Medium-pressure ball valves, medium-pressure tubing |
---
Cone and Thread VS. FK Series Compression Tube Fittings?
Switching from traditional cone and thread fittings to innovative FK series compression tube fittings, has enabled assemblers to complete fitting installations approximately five times faster, and virtually eliminating rework needs during hydrotesting and acceptance test steps. Additionally, performance of FK series compression tube fittings is improving system reliability and reducing overall maintenance needs.

The key to these labor and cost savings is the reduced time required to assemble fittings used to connect tubing with system components. A cone and thread fitting, which requires the installer to prepare a piece of tubing, takes approximately five times longer to assemble compared to an FK series compression tube fitting. With dozens to hundreds of connections required on assets, the faster installation capabilities of FK series tube fittings yield significant time and cost reductions, as well as accelerated deliveries of completed assets.
Watch and compare installation of FK series and cone and thread fittings
---
Case Studies
Read more about how FK Series Fittings are benefiting our customers and learn how they can work for you.
As a leading provider of packaged pump systems for the oil and gas industry, AGI Industries cannot endure setbacks caused by leaks or failure from its component parts. So when the company sought out a fitting and valve solution that could withstand 15,000 psi for the demanding needs of its chemical injection skids, they turned to Swagelok®
When cone and thread fitting performance issues were identified as being responsible for a series of chemical injection leaks in an important deepwater offshore platform in the Gulf of Mexico, the operator sought out a new fitting solution to correct the issue.